Event-first communities: How and Why
Communities gathered around event series
Table of Contents
Let's talk about event series, webinars, event management, and how you can organize a community around it. As Danielle put in her issue "Create an instant community" COVID made online gatherings increasingly popular. As you already have people committed to gathering for a specific amount of time it's only natural to create a community around them.
However, not all events are in a need of the community. We all have that slack workspace that was created for the specific conference 3 months ago and now is dead, or filled in with links to "upvote" or "give our new product a try".
In the article I will focus on:
What kind of communities can be created around events,
Examples of the event-first communities,
What mediums can benefit event-first communities,
How to select a tech stack for your event-first community,
Tools for event-first communities,
Overview of processes you need for event-first community.
Communities
Most of the communities have events incorporated into their stack. Some of them are in form of lectures for members from members, AMAs from industry professionals, etc. They all can be categorized as an event-first community to some degree, however, let's talk about communities that specifically are originated from events and in other words what kind of communities are benefiting from the "event-first" model.
One indicator of an industry that would benefit from an event-first community-building strategy is:
the niche has an established routine of offline (or online) meetups
Let's talk about some examples of event-first community niches.
Educational communities
Education is one of those industries that took a massive hit because of the pandemic. Which showed the need for urgent digital transformation. Creating a community around your educational program is the low-cost and low maintenance way of elevating the learning experience.
Education can be the industry that is communitisized (yup I made up that word just now; don't mix with communism) because:
educational institutions already have organized educational programs developed, so there's no need to reinvent the wheel
classrooms and universities already have communities created for the students
By unifying the learning experience in the community we ensure that it's not the lecturer broadcasting the text via zoom conference. But also the learning process is elevated by student interaction in an open online space.
Co-working (accountability) communities
This type of community is the one that's utilizing the event-first approach currently. Creating a steady routine of accountability check-ups, building in public with regular meetups and stand-up sessions is very normal for bootstrappers and founders in general. Now, this doesn't have to be startup related community, the same notion can be used for students, fitness coaches, and more.
Review communities
Again I created this term on spot, just bare with me here.
Review communities (in my humble opinion) are book clubs, movie critics, art reviewers, and spaces like that. This type of community is pretty niche and is mainly served by tools like Patreon (see an interview of Tim Ferriss with Amanda Palmer).
The industry is underserved with no specific tools targeted for creatives such as writers, moviemakers, screenplay writers, and so on.
Tech Stacks
Let's talk about tools you can use to manage and host your event-based community. Here I want to layout a guideline or evaluation criteria that can be useful if you're looking for an event management tool for your community.
High fidelity
There's nothing worse than having a conference (or even an event) planned and have the conferencing platform crashed right before your eyes. As an engineer I understand how hard it is to create high fidelity conferencing solutions, however, it's not impossible. Taking into account the history of "flops" for the specific application is important to understand how reliable the service is.
Organization
What I mean under organization is how fast and friction fee you can set up an event or event series on that platform. This can be in having a good onboarding process, good agenda, and time management functionality built-in. Collaboration functionality: collaboration with people inside the event and with your event co-organizers and so on.
The questions to ask for this feature set are:
are the meetups following an agenda?
how are RSVPs created? Can I manage, cancel, refund purchased tickets?
what's the communication format between the speaker/host(s) and the event participants?
what's the format of the Q/A section? Are the pre-filled question? Are the questions submitted during the event? Is there a Q/A section at all?
what kind of micro-content I'll be producing from this event (blog, audiogram, social media posts, ebooks, etc)?
Reporting
I had a temptation to call this section Analytics, but I think Reporting is a better option. Reporting includes in itself not only analytics but also the underlying processes of communication between guest speakers, co-hosts, sponsors of the event, members (in some cases).
The questions to ask for this feature set are:
how soon can I access the data of my event (is it live or it's available after some time)?
how much control I have to customize the data (track metrics, filter data, etc)?
who can access the data?
can I export the data?
Revenue
Prediction for 2021: you'll be able to monetize anything.
Same as the content events can and should be monetized. Having monetization functionality built-in inside the platform is helpful so you don't have to connect Stripe or other payment systems via Zapier or Integromat. Monetization models for events can be different: one-time fee for event series, membership fee for event participation, sponsorships, etc.
how soon I'm getting a payout?
are there any transaction fees?
what payment provider the platform uses?
what monetization models I can implement here?
Below is a little map of the event management tools. This is not the fullest database for event management tools. The tools mentioned here are the ones that stand out with their functionality for me.
Check out my mini database here.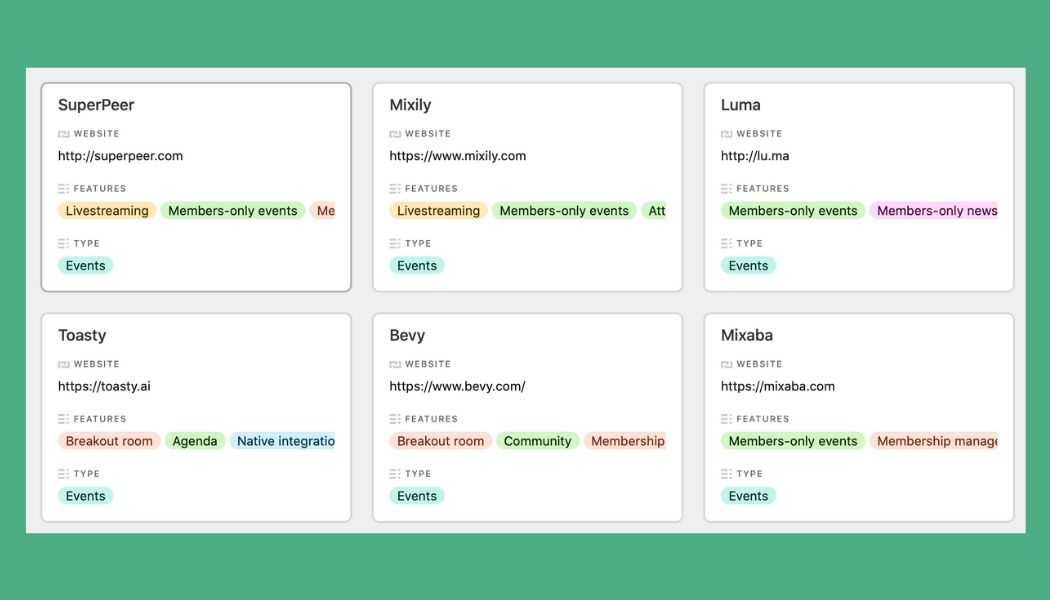 Workflows
In this section let's walk through your workflows as a manager of an event-first community.
1) Event discovery - this workflow should cover the event platforms, niche communities, social media platforms that will help you make your event discoverable. This is the top of your community discovery funnel.
2) Event hosting - this workflow should cover the specialized event hosting series, social media platforms where your event will be live. E.g. youtube, Eventbrite, twitch, etc.
3) Ticket management - this workflow should cover the process of issuing, charging, canceling, or editing the ticket. For both members and non-members of your community, depending on your event type.
4) Speakers sourcing - this workflow should cover the process of finding speakers for your event series (if you need one of course). One of the best ways of finding relevant speakers is to get recommendations from your community.
5) Event repurposing and creation of micro-content - this workflow should cover the process of repurposing and distribution of your event into micro-content for social media, niche communities, or your community website.
The article has a pro version where I go deeper into the workflows and processes of event-first communities.
By creators for creators Newsletter
Join the newsletter to receive the latest updates in your inbox.